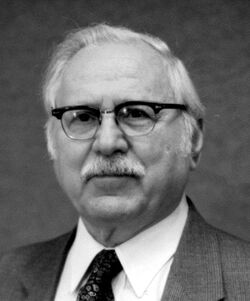 Zecharia Sitchin (July 11, 1920 – October 9, 2010) was an author of books proposing an explanation for human origins involving ancient astronauts. Sitchin attributed the creation of the ancient Sumerian culture to the Anunnaki, which he stated was a race of extraterrestrials from a planet beyond Neptune called Nibiru. He asserted that Sumerian mythology suggests that this hypothetical planet of Nibiru is in an elongated, 3,600-year-long elliptical orbit around the sun. Sitchin's books have sold millions of copies worldwide and have been translated into more than 25 languages.
Biography
Edit
Sitchin was born in Baku, Azerbaijan SSR and raised in Mandatory Palestine, where he acquired a profound knowledge of modern and ancient Hebrew, other Semitic and European languages, the Old Testament, and the history and archaeology of the Near East.
He received a degree in economics from the University of London, and was an editor and journalist in Mandatory Palestine (which in 1948 became the modern state of Israel), before moving to New York in 1952. While working as an executive for a shipping company, he taught himself Sumerian cuneiform and visited several archaeological sites.
Now he is one of the few scholars able to read and interpret ancient Sumerian and Akkadian clay tablets, Zecharia Sitchin (1920-2010) based his bestselling The 12th Planet on texts from the ancient civilizations of the Near East. Drawing both widespread interest and criticism, his controversial theories on the Anunnaki origins of humanity have been translated into more than 20 languages and featured on radio and television programs around the world.
Trending pages
All items (10)
Community content is available under
CC-BY-SA
unless otherwise noted.